The 6th Success Story
 Background Information about I.N.T.E.C.H
I.N.T.E.C.H Company Limited is a company specializing in  constructing factories, manufacturing machinery, equipment and robots.
INTECH has been present throughout the industrial zones of the country. Following that development the company has stepped up its participation in the field of wastewater treatment of industrial parks, as this area is home to a large number of industrial parks. the largest amount of wastewater discharged into the environment.
To meet that demand, I.N.T.E.C.H Trading Production Co., Ltd. and Rotec Vietnam Co., Ltd have cooperated in purchasing and installing the RBP-100.04 conveyor belt press at Pho Noi industrial zone, Hung Yen.
The Plate Filter Press Provided by Rotec Vietnam
The Plate filter press has been designed by leading engineers in Vietnam. This is also the most advanced product line in Rotec's products to meet the wastewater and sludge treatment needs of businesses and companies in Vietnam.
Plate filter press machine is designed on the principle of filtering by two conveyor belts and then adjusting the pressure.
When the machine comes into operation, the amount of sludge will be filtered and separated from the press head. The amount of water after percolating through the filter cloth will be returned to the reservoir waiting for re-treatment.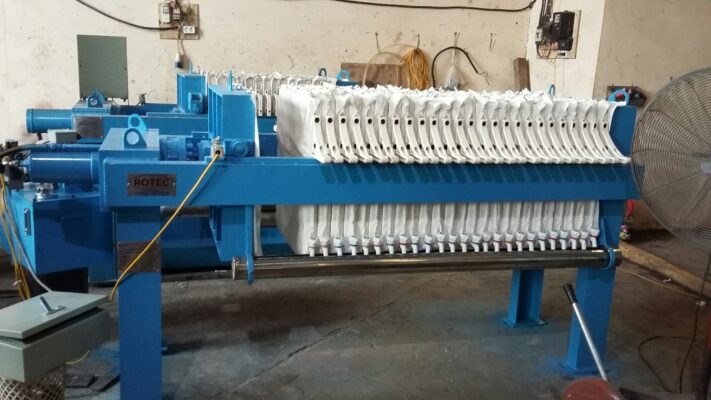 This machine meets the current practical needs of the Vietnamese environment.
 I.N.T.E.C.H's Appreciation about Rotec Vietnam's Plate Filter Press
After using Rotec Vietnam's plate filter press for some time, I.N.T.E.C.H Trading Production Co., Ltd. has had very positive evaluations about product quality.
Below is what the company representative has shared: ' We have realized that this is a very good product with high quality to use.
This is a design that meets the needs of large-scale wastewater treatment.
Previously, we thought that these machines and equipment should be imported for the best quality.
However, after a long time using the products of Rotec Vietnam Co., Ltd., we have had a different opinions and viewpoints on Vietnamese goods.
This product is highly appreciated by us for its quality and stability during machine running.
In addition, we have also received the enthusiastic care from Rotec Vietnam's staff.
Hope that our company will have a long-term cooperation with Rotec Vietnam. We wish the company great success."
Hopefully,  customers  will have one more choice for yourself in choosing a wastewater treatment machine.
With a flexible payment policy and a long-term warranty, Rotec Vietnam confidently affirms to bring customers satisfaction and peace of mind when using our products.
Contact information
ROTEC VIETNAM CO., LTD
• Head office address: Room 311, B15, Unit B, Dai Kim Urban area, Hoang Mai district, Hanoi Capital.
• Southern branch: Lot E17, KDC Valencia Riverside, No.1000 Nguyen Duy Trinh, Thu Duc City, Ho Chi Minh City.
• Hotline: (+84) 971 506 268
• North: (+84) 961 606 268-  (+84) 967.706.268
• South: (+84) 866.476.268
• Website: https://rotec.com.vn/
• Fanpage: https://www.facebook.com/congtyrotecvietnam
• Youtube: https://www.youtube.com/channel/UC9UngzC_qkoVwAQDORT2dtQ
• Email: sales@rotec.com.vn
Video of the Product