Product cleaning, rust and paint removing,  roughness creating, surface restorating or sand removing on mechanical products, molded products before plating, painting, and detailing are very urgent needs of numerous domestic and foreign manufacturing enterprises today. Meeting the required specifications, saving operation costs and increasing the revenue efficiency of manufacturing enterprises is a big problem facing outsourcing and mechanical enterprises. Good news is that , now, Vietnam Rotec Co., Ltd. has found an extremely effective and optimal solution, which is the SHOT BLASTING MACHINE designed and manufactured by Vietnam Rotec Company to clean mechanical products.
1. Overview Of  Pulley
Pulley refers to an important part to attach the belts to transmit the torque to help operate the system. In fact, the pulley is the part of the roller, which is responsible for transmitting the moving torque, helping the machine to operate. Pulley is widely applied in many industries from mechanics, machine assembly to cars and industrial equipment. In addition, the pulley is also very useful for human life such as moving objects from one place to another. Puly is also used in elevators, conveyor belts in apartments, hotels, factories and companies etc.
There are many types of pulleys on the market such as ladder pulleys, flat belt pulleys, sleeve pulleys, tapered pulleys, compound pulleys and taper pulleys. (Source: hutscom.vn)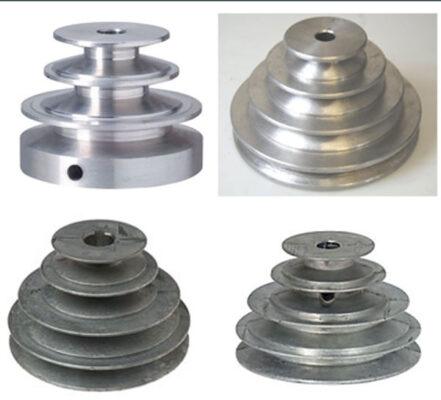 2. Images Of Vietnam Rotec's Shot Blasting Machine Model RSH 3.10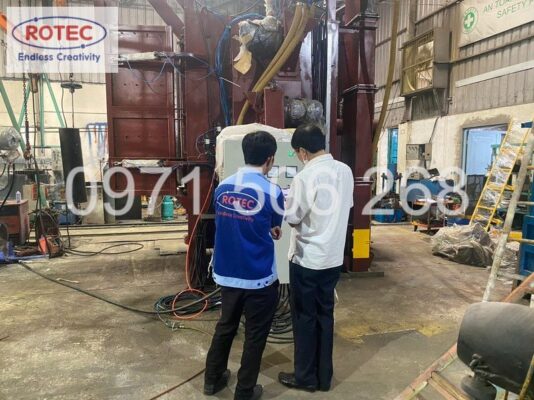 3. Major Technical Specifications Of RSH 3.10 Shot Blasting Machines
| | | |
| --- | --- | --- |
| Model: RSH- 3.10 | Dimensions of spray Chamber  Width x Depth x Height: 1700 x 1700 x 2100mm | Mount assembly: Capacity of the rotary engine:(KW):0.4 |
| Number of nozzles: 3 | Pneumatic cylinder: Airtac, PLC Mitsubish | Type of assembly: Y-typed hanging assembly |
| Capacity of each nozzle (KW): 7.5 | Color of paint: standard blue designed by Vietnam Rotec Company | Velocity (m/p): 2 |
4. Prominent Features of RSH 3.10 Shot Blasting Machines
The machine is suitable for cleaning casting parts and heat treatment details, etc.
The machine works on the principle of centrifugation, so it has high productivity.
The machine works automatically. Only 1 operator is required to remove and load the product to be cleaned.
The spray chamber and the shot head are made of chromium alloy, so it has high wear resistance.
The machine has a built-in automatic dust collection and filtration system, so it does not generate dust into the environment.
5. Structure Of Vietnam Rotec's Shot Blasting Machine Model 3.10
The nozzle head assembly of the rotary mount shot blasting machine.
Conveyor assembly for in/out workpiece.
Screw conveyor assemblies and steel ball loads
Bucket assembly
Balloon chamber cluster
Separation cluster, dust separation
Dust filter assembly
Control cabinet assembly
6. Working Principle of RSH 3.10 Shot Blasting Machine
Hanger Type Shot Blasting machine works on the principle of centrifugal. The products to be cleaned are hung on a rack located in the center of the spray chamber. This mount will be driven around by a separate electric motor. The ball heads are centrifugal nozzles. In the psychological firing head, there are ball propellers, ball guide cups, and ball feed cups. The balls will be shot out by the head at a very high speed (about 80mm/s), giving the balls a very large kinetic energy. This kinetic energy will clean the surface of the product to be cleaned.
The balls after being shot into the cleaning product will fall to the bottom and be recovered by the ball collection system through the dust filter system from the balls, and the clean balls are returned to the ball container on the machine. This ball storage tank will continue to supply balls to the ball heads. This process is continuously cyclic throughout the shooting process. During the blasting process, dust will be generated and this amount of dust will be collected by the dust collector and filtered to retain dust in the dust filter, avoiding dust generation into the environment.
After 1 cleaning cycle, the operator will open the door to take out the cleaned product. At the same time, continue to feed the uncleaned product to the mount for a new firing cycle.
7. Offers When Purchasing Vietnam Rotec's RSH 3.10 Shot Blasting Machine
Offer #1
Vietnam Rotec Co., Ltd. has more than 15 years of experience in the market in the field of manufacturing industrial machines and environmental treatment equipment, especially SHOT BLASTING MACHINE  with a team of excellent graduates from prestigious universities and with many years of experience in machine designing and manufacturing.
Offer #2
The machines are manufactured from available components and materials, so it is easy for them to do maintainence without waiting for so long.
Offer # 3
The machine is individually designed according to the requirements of each customer, so it will meet all your needs in terms of specifications such as productivity, size and  color etc.
Offer # 4
The warranty period is up to 12 months. If there is any problem with the machine during the warranty period, customers just need to call our hotline for 24/7 consultation and within 48 hours there will be technicians to troubleshoot the machine.
Offer # 5
The payment policy of Rotec Vietnam is very flexible and divided into many payment installments so that all customers can afford the machines.
Offer # 6
Technical experts enthusiastically consult, determine the right needs of customers and find the optimal solution to solve the problems that customers are facing.
Offer # 7
Customers can come to the factory to directly test the machine.
8. Warranty Policy When Purchasing Vietnam Rotec's Machines
All mechanical products bearing Vietnam Rotec brand are warranted at the Vietnam Rotec warranty center or the factory where the machine is installed and operated. Warranty service details are as follows:
Warranty period: Vietnam Rotec's mechanical machines are warranted for 1 year from the date of operation and installation;
Warranty conditions: Rotec Vietnam warrants against manufacturer defects or defects related to product quality. All errors arising from improper operation, natural disaster, fire and explosion will still be repaired but will be charged to the user.
Warranty costs: Rotec Vietnam offers a free warranty on all manufacturer defects and charges for remaining defects;
In the event that components must be replaced, Vietnam Rotec reserves the right to recall damaged components, use new, recycled or improved components to replace the damaged components. And quality assurance for that replacement.
To ensure the warranty, please stop the machine 3 hours before the warranty, provide the power source and necessary equipment specified by Rotec Vietnam.
9. Thai Nguyen Investor's Review of RSH 3.10 Shot Blasting Machines
Sharing about the RSH 3.10 Shot Blasting Machines, the Investor from Thai Nguyen has expressed absolute satisfaction and confidence: "We are very satisfied with the quality of RSH 3.10 Shot Blasting Machine manufactured by Vietnam Rotec Co., Ltd.  The pulleys have become shiny after being cleaned that match our requirements.
In addition, we are extremely satisfied with the polite attitude from leaders to employees of Vietnam Rotec Company. Moreover, Vietnam Rotec  always offers our company a lot of incentives in terms of payment policies and product warranty and maintenance. We hope to have many more opportunities to cooperate with Vietnam Rotec Company'
10. Video of RSH 3.10 Shot Blasting Machine Manufactured by Vietnam Rotec Company
11. Contact Information
VIETNAM ROTEC COMPANY LIMITED
Registered address: No. 3, Lane 240, Le Trong Tan street, Thanh Xuan district, Hanoi.
Email: sales@rotec.com.vn
Website: https://rotec.com.vn
Youtube: https://bit.ly/3LKGZh6
Fanpage: https://www.facebook.com/rotecvietnam0971.506.268
Northern Office
Address: Room 311, Unit B, Building B15, Dai Kim New Urban Area, Hoang Mai District, Hanoi City.
Factory: GD 5-4, Ngoc Hoi Industrial Park, Thanh Tri, Hanoi Capital.
Hotline: North: (+84) 971 506 268- (+84) 961 606 268- (+84) 967.706.268
Southern Office
Address: Lot E17, KDC Valencia Riverside, 1000 Nguyen Duy Trinh, Thu Duc City, Ho Chi Minh.
Warranty and Maintenance Center for the South: No. 1674 Nguyen Duy Trinh, Thu Duc City, Ho Chi Minh.
Hotline: South: (+84) 866.476.268- (+84) 867. 476. 268- (+84)967. 406. 268
IT IS OUR PLEASURE TO CONSULT AND TO SERVE YOU!