The 7th Success Story
Background Information about Ngoc Son Company
Ngoc Son Handicraft and Furniture Co., Ltd. is considered a typical representative for businesses developing traditional handicrafts in the Northern region.
The company has more than 15 years of experience in the field of handicrafts and combining traditional materials with modern ones. The company's products are mainly exported to foreign countries.
Currently, the company has 3 factories with a total area of ​​more than 1000m² in Chuong My district, Hanoi city.
Ngoc_Son_Handicraft_Furniture_Factory
The company has installed and operated Rotec Vietnam's plate-filter press machine. After 10 months of operating the waste treatment plant of the factory, the company is now completely assured of the quality of the products.
Ngoc Son Company's Opinions about Rotec Vietnam's Plate Filter Press Machine
Representative of Ngoc Son Handicraft and Furniture Co., Ltd shared:
"Because it is a handicraft and furniture company, the company's wastewater volume is quite large with many different types.
We had a hard time in the past when we had many machines that were only used for certain types of wastewater. This reduces processing productivity and increases costs for businesses.
Since the introduction of the Rotec Vietnam's Plate filter press into the water treatment system, things have become much easier when the company can meet the scale of sludge treatment in Vietnam.
Especially, the machine is designed to be compatible with many different types of sludge, so it has solved our problems.
After nearly 1 year of operation, we have not recorded any technical problems, the machine runs very smoothly and evenly.
Outstanding features of Rotec Vietnam's Plate Filter Press Machines
1-Rotec Vietnam' Plate filter machine has been researched to automate all stages, so it is very safe to operate.
2-The company's sales policy is also one of the reasons we have been satisfied with the product. The service accompanied with the product is extremely professional and dedicated.
3-We believe that when there is a problem with the machine, the technical team of Rotec Vietnam will immediately be there and fix it.
4-We hope to have the opportunity to cooperate with Rotec Vietnam on other quality products in the near future."
5-Rotec Vietnam not only provides customers with high quality products, but also offers very good sales and after-sales policies. In addition to the 12-month warranty, Rotec Vietnam also promises to fix the problem in the fastest time. In addition to Plate Filter Press machines, Rotec Vietnam also provides many other mechanical products.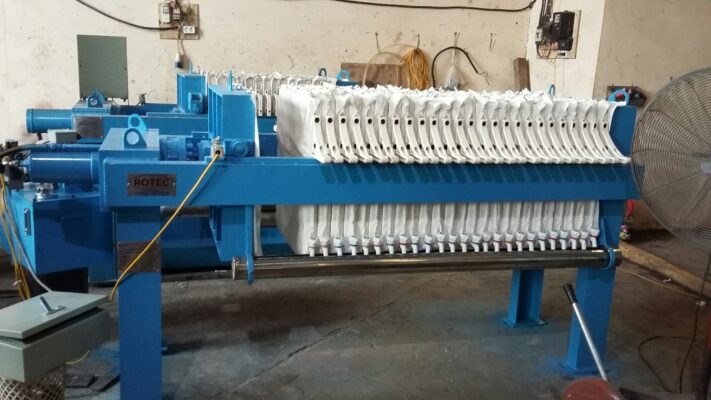 Contact information
Dear customers can find out more information about our products via hotline: 0971 506 268 for direct consultation or see more information at the website: https://rotec.com.vn/may-ep-bun-may-loc-bun/ 
ROTEC VIETNAM CO., LTD
Head office address: Room 311, B15, Unit B, Dai Kim Urban area, Hoang Mai district, Hanoi Capital.
Southern branch: Lot E17, KDC Valencia Riverside, No.1000 Nguyen Duy Trinh, Thu Duc City, Ho Chi Minh City.
Hotline: (+84) 971 506 268
North: (+84) 961 606 268-  (+84) 967.706.268
South: (+84) 866.476.268
Website: https://rotec.com.vn/
Fanpage: https://www.facebook.com/congtyrotecvietnam
Email: sales@rotec.com.vn
Video of the Product: